Recipe: Apple Farro Salad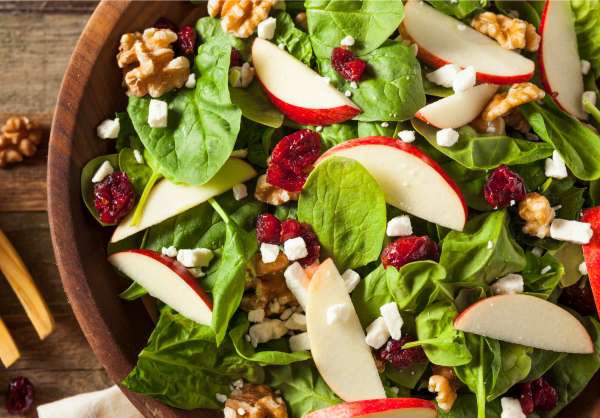 Created: Jun-15-2018
The warmer weather of spring invites the opportunity for spontaneous picnics and potluck gatherings—having a go-to recipe on-hand will prevent you from scrambling at the last minute. Consider bringing something that is healthy and tasty, too, such as this apple farro salad.
FYidoctors patient Melissa Condon submitted this healthy recipe for its fibre-boosting powers. A diet rich in fibre slows down the digestion and absorption of sugars and starches. Fibre also keeps you feeling full, which makes it easier to limit the amount of calories you consume. Experts suggest that at least half of your daily grains and cereals be 100% whole grains. Additionally, eating a healthy, balanced diet filled with fruit and vegetables may help to keep your eyes healthy and prevent the development of some eye conditions.
Cooked farro has a nutty flavour and slightly chewy texture, both of which are particularly delicious in salads like this one. Use your favourite variety of apple to make this easy side dish. Sliced pears are a perfect match, too.
Ingredients:
Arugula
1 cup of farro, cooked
1 green apple sliced and diced
2 small radishes, sliced and diced
1/4 cup sunflower seeds
1/4 cup chick peas, rinsed and drained
1/4 cup apple cider vinegar
olive oil
Directions:
Mix and enjoy!
For another eye-healthy recipe, check out this blog.