If you're like most men, chances are finding new glasses can be a challenge. After all, trying on glasses isn't something we do on a regular basis, plus glasses walk that fine line between being a medical necessity and a fashion accessory (just ask Jay Z, LeBron James and Ryan Gosling, all of whom are rocking some stylish men's glasses these days).
With that in mind, here are a few things you should consider if you're looking for new glasses.
Fit is everything
Like a good suit, the way your glasses fit your face is key. This is why your friendly neighbourhood optician is critical in terms of being able to take your measurements and ensure that your new specs fit perfectly (if not, you could end up with glasses that are too large or small, or that simply look awkward). A good rule of thumb is to make sure the frame doesn't touch any part of your cheeks (when you smile or when your face is relaxed). If your frames do touch your cheeks, they're way too small. Your frames should also fit flush on the bridge of your nose. If you see a gap between the frame and your nose, your eyewear is probably too small. Finally, don't hide your eyebrows. A lot of new frames are very large, but hiding your eyebrows behind them tends to look a little strange and off-putting.
Know your face shape
It might sound bizarre, but finding the right frames for the shape of your face is important. If you have a square-shaped face, go with glasses that have a soft, round look. If you have a round face, try slightly angular and rectangular frames. If you have an oval face, you can wear just about anything. And if you have a heart-shaped face, try going with rounder frames. If you aren't sure what shape your face is, speak with an optician, as they'll be able to help figure out exactly where you fit.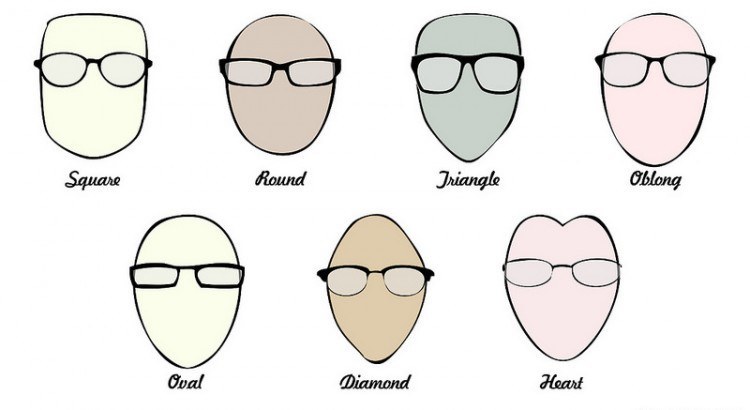 Image Source: http://www.selectspecs.com/blog/wp-content/uploads/2014/10/13105962595_600cf2047f_c-750x410.jpg
Consider their use
Glasses are a personal statement, but it's also important to think about how they'll be worn on a day-to-day basis. Are they for work, something you'll likely wear when you play sports, or just something that you'll be wearing casually in a variety of situations? Knowing how and when you'll be wearing your glasses will have a big impact on what styles and materials you'll go for (it may also be a good reason to pick up an extra pair). Your optician may also suggest particular types of lenses, such as those for use when working in front of a computer or while driving, that can offer even more versatility.
Think outside the box store
While there are plenty of reliable standbys when it comes to frames, these days, glasses are as much a fashion statement as they are about correcting your eyesight. Designers are experimenting with styles all the time. Chances are you can find something that matches both your prescription and budget, as well as your personal style. Think about trying something a little different, such as tortoise shell, clear frames or even unique materials like metal and wood. It's a way to not only see better, but to make a statement with your new glasses.
FYidoctors carries a wide variety of eyewear frames from the biggest names in men's fashion. Our helpful opticians at your local Visique location can help you find the perfect frames and make sure they fit exactly the way they should.