Back to Community Company Highlights
Employee Spotlight: Dr. Mylène Desjardins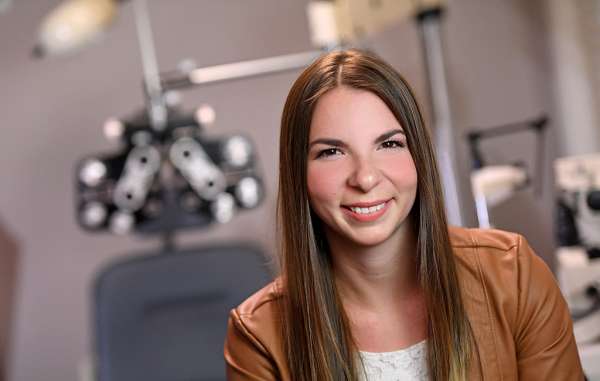 Created: Apr-16-2019
Dr. Mylène Desjardins is the lead optometrist at Visique in New Brunswick. She's passionate about her work, involved in her community and dedicated to the health and wellbeing of her patients. So dedicated in fact, that in the past she offered a patient a ride home at the end of the day to prevent them from having to wait too long for a taxi—now that's dedication! Continue reading to learn more:
What is your current role at Visique?
I am an Optometrist and Lead OD (I manage the clinic and link other clinics) at Visique Edmundston and Visique Saint-Quentin, a satellite clinic in New Brunswick.
Briefly describe your educational background and training locations.
After graduating from the Polyvalente Thomas-Albert de Grand-Sault in New Brunswick, I completed the Preparatory Program for Health Sciences (DSS) at the Université de Moncton, Edmundston Campus in 2011. I was then admitted in 2011 to the Doctorate in Optometry at the University of Montreal, which I completed in 2016. During my clinical internships, I spent three months in Florida at the Fier Eye Care Clinic. Surgery Center in Port St Lucie and Stuart.
What makes your clinic a unique place to work?
It's the people who work there. Competent people, but above all, professionals with very big hearts.
What made you want to work in eye care?
I wanted to work in the field of health and I liked mathematics and physics a lot. I wanted to help people. Optometry is the perfect field that allows me to help people see better!
What do you love most about your job?
The time spent getting to know my patients better and to meet them every year. I treat my patients as if they are members of my own family.
What is one of the most difficult aspects of your job?
Finding that it is sometimes too late for early detection that could have limited eye problems in some cases. Or even, sometimes it's impossible to improve a patient's vision because of an incurable eye disease that limits vision.
What's one of your favourite moments from working at the clinic?
When I saw a young girl for whom I had detected a serious illness manifested by visual symptoms. This early detection allowed her to be treated quickly and limited the impact on her overall health.
How do you see the future of eye care?
That eye care is easily accessible everywhere in the world! Some possible solutions could be through education, awareness and the addition of training institutions for future professionals.
What is the most important advice you want to give to your patients?
Do not take for granted your good vision and take good care of your eyes and general health. I recommend an eye exam each year for children, to ensure that their visual development is not limited. For an adult, I advise coming for an eye exam once every two years. Of course, except if the optometrist suggests coming every year because of eye disease.
What is your personal eyewear style?
My style of glasses changes every day!
Where can we find you when you are not at Visique?
At home with my partner, Christian and my cats, Winston and Lexie. I love being at home!
To book an appointment with Dr. Desjardins or another optometrist, visit our website to find the nearest Visique.